Clear + Brilliant® is a gentle resurfacing laser for clients who have maintained healthy skin and are seeking to minimize and prevent the early signs for aging and sun damage. This safe, non-surgical and non-invasive laser system aims to fight the natural effects of aging on the skin, helps improve tone and texture and can give a radiant, youthful glow to the skin. A more even skin canvas can be created, with reduction in the appearance of pores.
Discover how comfortable laser can be.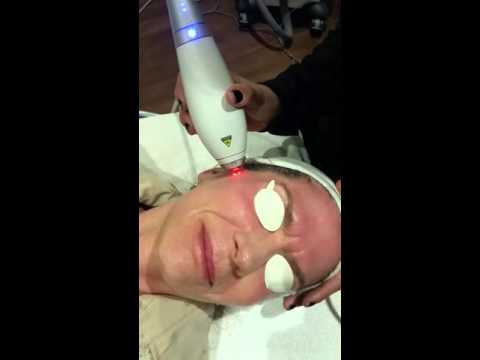 ---
Treatments
Clear + Brilliant® laser skin technology is safe for all skin types however, a professional consultation will ensure that Clear + Brilliant® is the best method to treat your skin. A topical numbing cream may be applied to enhance your comfort during your session which typically lasts 30-60 minutes. Clear + Brilliant® laser treatments are typically comfortable and recommended for early pigmentation, sun damage and wrinkles.
Recovery
Some redness and swelling may be experienced for 12-24 hours. The skin may feel rough for up to 3 days after which point smooth and vibrant skin is revealed. All varieties of fractional laser resurfacing are photosensitizing and therefore, sun protection before and after your Clear + Brilliant® treatments is imperative for safety and optimal results.
---
How It Works
Developed by Solta Medical, the pioneers of fractional laser resurfacing, the Clear + Brilliant® laser skin resurfacing system features smart-tip technology and offers advanced precision energy delivery. These patented features aim to stimulate and renew from the inside out and offer unmatched evenness, revealing clear and brilliant skin. Clear + Brilliant® laser treatments deliver energy to the skin in micro treatment zones leaving the tissues immediately surrounding each zone untouched for rapid healing. The images below depict the results before Clear + Brilliant® Perméa and one month post 6 treatments are only for the viewing consumption of Cutis Cosmetic & Laser Centre Patients.
---
Before
After
The following images are only to be viewed by patients of Cutis Cosmetic & Laser Centre.
Number of Treatments 4-6
Treatment Time 30 minutes
Average Treatment Frequency bi-weekly then every 6 months
Average Recovery Time 12-24 hours
DISCLAIMER: Individual outcomes, results and number of treatments recommended may vary based on individual patient needs, medical history, and circumstances. Cutis Cosmetic & Laser Centre cannot guarantee exact or permanent results or cures.